Datsville





A Joint Project of Lego Cad Enthusiasts Everywhere



by John VanZwieten

Datsville is a Virtual LEGO® town which brings together town designs from a community of LEGO® CAD enthusiasts. It is built from LDraw .dat files submitted to the newsgroup lugnet.cad.dat.models.

Datsville Overview -- Click on the image for a "guided tour." On the large image map, click on a building to retrieve the .dat file of the model.






Get inside Datsville!



Want to take a walkthrough of some of Datsville's best archetecture? You can on Kevin Loch's Dat Explorer.



Recent news...




Datsville at Mindfest!

John VanZwieten

On Saturday, Oct 23, I will be part of a Mindfest panel discussion on "Virtual Tinkering," with Datsville my main focus. I'd like to get Datsville in the best possible shape by then. So if you have models nearly complete, and could finish them (...) (14 years ago, 15-Oct-99, to lugnet.cad)

Datsville is filling up!

John VanZwieten

The Datsville overhead view is becoming quite full. Thanks to those who have recently posted some really great stuff. I got the image map updated for the buildings, but not for vehicles. Now to see if I can squeeze a closup in before my plane (...) (14 years ago, 22-Oct-99, to lugnet.cad)

[Datsville] Datsville Shopping Center [DAT]

Jeff Stembel

PRESS RELEASE: After a long construction period, the Datsville Shopping Center is open for business! Many stores have moved into the Shopping Center, welcoming neighborhood minifigs into their establishments for the first time. Jeff Stembel Mayor of (...) (14 years ago, 19-Oct-99, to lugnet.cad.dat.models)




Datsville, November 1, 1999



Datsville is really on the map now. Metro train service opened at newly completed Union Station. Rene Virsik's limo service was on hand to ferry passengers from the station to their homes--those too impatient to wait for bus service.

Commerce in Datsville is also picking up, with the opening of the strip mall, grocery store, a fine glass shop, and even a bait -n- tackle shop. Mayor Stembel denied allegations that the strip mall received a special zoning variance only because the Mayor's brother developed the mall. "With its close proximaty to the train station, the mall will bring in business from all over the county. Just because a hospital was originally planned for that spot doesn't mean we should hold up progress!"

City services have expanded to include a hospital and police station—jail included. Mr. Burger was disappointed that his Ferrari was not fixed before the new police presence put a damper on late night hot-rodding through the town.

Developer Brian Sauls continued his bid to become Datsville's #1 landlord. His posh new 18 unit apartment complex is filling quickly, and joins the triplex completed earlier this year. Sauls Inc. also has a controlling stake in the grocery and bait stores.

Datsville College is putting the finishing touches on its new stadium. Desinged to allow both football and cricket matches, it is expected to host the Datsville Falcons homecoming game next week. Workers promised to have the stadium lights up by then.

In other news, construction continued on the bridge over Blissful River. Once the bridge is complete, it will link state routes on both sides of Datsville, increasing opportunities for commerce (and traffic).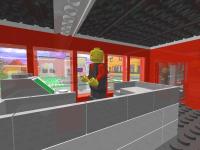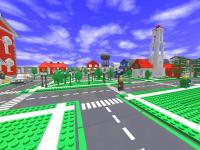 Datsville, September 18, 1999



Citizens of Datsville will get a more comfortable sleep tonight after pulling out all the money they had been stashing in their matresses. The cash was deposited in newly opened Datsville National Bank. Bank President James Jackson noted that the bank would begin processing mortgage loans immediately in order to speed development in Datsville.

Residents got to try out their new cash cards at the petrol station ATM, and there was a run on overpriced junk food at the station's mini-mart.

Jon Wilson spent the morning installing a new muffler on the Ferrari (you can see it if you look closely at the petrol station garage). He got some extra work when the petrol tanker suffered some very flat tires while pulling into the station. With his substantial profit on the whole deal, he headed to newly opened Datsville Twin Showplace to see Star Wars EP1 for the 34th time.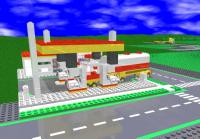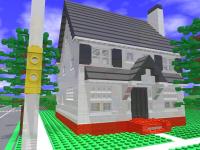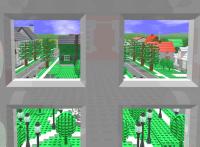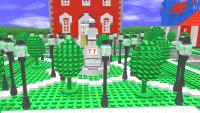 Datsville, September 15, 1999



Workers put the finishing touches on the Town Hall located on the north side of the town square. Controversy ensued when reporters noticed all the expensive new furniture being hauled into Mayor Stembel's office.

One parent grumbled, "Datsville is spending exactly $0 on educating our children, but they have money for $3000 chairs for the mayor?

Mayor Stembel fired back, "I've got big plans for this town, and I won't make them happen from some cheap plastic seat!"

Datsville Petrolium's service station opened today, with Mr. Burger hauling his Ferrari in for a new muffler. Datsville citizens were pleased to receive their first mail delivery.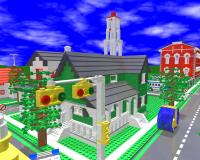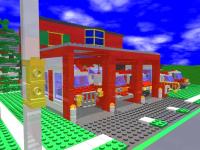 Datsville, September 10, 1999



Datsville emergency services were called out today after an explosion was heard coming from the western edge of town.

While it turned out to be nothing more than a hole in the muffler of Thomas Burger's Ferrari, Fire Chief Dennett nonetheless crowed about the Datsville Fire Departments quick response time: "We were there in two minutes flat!"

Mayor Stembel was also pleased: "With the excellent fire services we have now, property owners' insurance rates should be coming down." The mayor also thanked philanthropist Steve Bliss for his generous donation of mature trees for Datsville.

Mr. Burger promised to have the Ferrari fixed as soon as a service station is completed.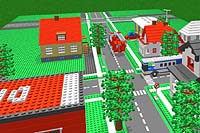 Datsville, September 8, 1999



Datsville dedicated the central James Jessiman Memorial Park, honoring the gifted inventor of the DAT file. Citizens feel safer thanks to the completion of the Datsville Fire Department's new facilities, and were happy to receive their first mail (though they had to walk 1½ blocks to pick it up).

Historic preservationists decried the leveling of Brian Sauls' "Yellow House," but Brian vowed to rebuild in a more suitable location, and with a more complete roof. In other news, traffic appeared on Datville's streets for the first time, and the church got a more friendly paint job.

Due to time constraints, this update does not contain author information, but the mayor wishes to thank all those who have contributed so much to the town!







Datsville, September 3, 1999



Citizens of Datsville (formerly LCadville) were pleasantly suprised to have water pressure in their homes today, thanks to the newly constructed water tower. Plans are in the works to paint the town name on the tower.

Datsville College was also dedicated today. The college will offer a 4-year degree in Lego building and design. The college hopes to lure Weird Richard as its 1st president.

Other noticable town improvements include paved streets, sidewalks, and grass.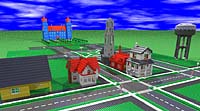 From left to right, with the location of their .dat files, the buildings are:




LCadville, September 2, 1999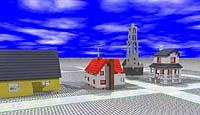 LCadville, September 1, 1999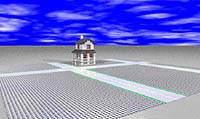 The first addition to LCadville came from Jeff Stembel:


Text and images ©1999 John VanZwieten. All rights reserved.