Pause Magazine's Lego Set Reference Guide - Aquazone
---
NOTICE: These pages are in NO WAY affiliated with or sponsored by the LEGO Group. All trademarks and tradenames are the property of their respective owners. Unless otherwise noted, all photos displayed herein are the property of the LEGO Group, and you should not assume any rights to them whatsoever, including downloading of the images. These pages are for display and reference only.
---

In 1995, Aquazone became the first ever new theme to be introduced with more than one sub-theme. And it also became one of the hottest lines LEGO has produced, according to Shop at Home. Both the Aquanauts and Aquasharks were introduced in '95. The Aquaraiders were introduced in 1997. For 1998, two new sub-themes were introduced to replaced the discontinued Aquanauts and Aquasharks. They are the Hydronauts and the Stingrays.

The Aquanauts are the underwater good guys, searching endlessly for Hydrolator crystals and ways to harness their power.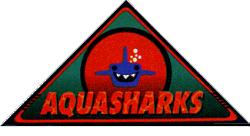 Nothing could make the Aquasharks happier than to steal all of the Hydrolator crystals from the Aquanauts to keep for themselves. For 1996, the Aquasharks get two new sets, including one with a small base.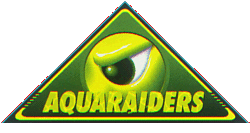 This third sub-theme for AquaZone is sort of AquaZone meets Blacktron, with cool black & trans yellow / trans antifreeze color schemes and some menacing-looking sets. The AquaRaiders seem to enjoy bulldozing their way through the oceans...

Of the two new AquaZone sub themes for '98, these seem to be the good guys. The best thing about the Hydronauts is that they have a big base that is built on a raised baseplate, then raised further with the use of rock pieces. Both the Hydronauts and the Stingrays feature new pieces that allow the octagonal cockpit elements to be used at an angle.

And then there are the Stingrays, or as some people have called it, "AquaZone meets Blacktron". These sets are very agressive and the largest of the Stingrays sets is downright huge, measuring about 45 by 55 studs (width & length, respectively).
---
Back to Pause Magazine's LEGO Pictures Page...
Back to Pause Magazine's LEGO Reference Guide...

---
Text and background graphics © 1997 Zucaro Internet Publishing. Pause Magazine and the Pause logo are trademarks of Zucaro Internet Publishing. All rights reserved.