Welcome to Pause Magazine's Lego '98 Page
---
NOTICE: These pages are in NO WAY affiliated with or sponsored by the LEGO Group. All trademarks and tradenames are the property of their respective owners. Unless otherwise noted, all photos displayed herein are the property of the LEGO Group, and you should not assume any rights to them whatsoever, including downloading of the images. These pages are for display and reference only. Please visit the official LEGO web site!
---
Click the Image Above or Here to See Larger...
Last Updated: 2/8/98
For 1998, LEGO is treating us to many things that we've been asking for for years, although, of course, it's by coincidence. Two new themes and six new subthemes compliment sets remaining from '97. As started last year, LEGO seems to have almost completely gone to a two-year product cycle - the only sets not discontinued from '96 are some of the original Wild West sets.
As is often the case with the in-box catalogs, only a few Technic sets are shown, and no Trains or Model Team sets are in the catalog (although we know from reports on the Retailers' catalog that one Model Team set will be released for sure). But this doesn't mean there won't be any, as those have been predominantly Shop at Home items in the last few years.
What is missing, however, that is very sad to a lot of people, is Pirates. All Pirates sets have been discontinued for '98. Whether or not this means that there will never be any more Pirates sets remains to be seen (next year), but for now, they're gone.
New Elements for 1998
Adventurers: Tan bricks; tan rock pieces (tops); "log" pieces in tan and white; pith helmets; Egyptian pharoah's headdresses; fedoras; scorpions; mummy heads; 4 X 6 X 6 high slanted walls; black treasure chests; sarcophagus & lid; ruby crystals; brown bats; new wheels; magnefying glass; sextant; new movie camera; new windshield; new car cockpits; new pilot's helmet; binoculars; tents; red snakes; "cake dome"
Insectoids: Light and sound element; insectoid wings; transparent half-spheres with "bug eye" facets; insect legs (small and large); insectoid crystals; new transparent helmets; angled 8 X 8 octagon cockpit element; transparent antenna / footpod
AquaZone: Trans green quarter domes; new helmets; 1/2-dodecagon saucer sections; 1/4 saucer bottoms; metallic blue headgear
Ninja: New helmets; new hats; new swords; dolphin roof ornaments; glider wings; new ropes with hand grips; new grass / leaves; epaulets / chest plates
Town Jr.: Three-wheeled cycle base; 8 X 2 X 6 high bay windows; angled arch; new baseplate with "driveway" sections
Extreme Team: Pulley handle; flexible "H-bar"; grappling hook
Radio Control: Probably too many to list, but obviously the controller and the RC chassis are new; chromed handled headlights; 2 X 6 X 3 high bricks
Technic: Flexible accordian tube covers; two new wheel and tire types
LEGOLand Population Increase for 1998
To the best of our knowledge...
Adventurers: 30

Insectoids: 12

Hydronauts: 12

Stingrays: 9

Ninja: 27

Castle: 4

Town Jr.: 27

Generic Town: 7

Extreme Team: 16

Res Q: 16

Total Births: 160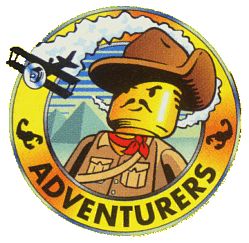 Seemingly inspired by the Indiana Jones films, the Adventurers sub-theme represents a line that many LEGO Maniacs have been after for a long time. These sets feature Egyptian pyramids, sphynxes and mummies! The cars and trucks seem to seat two mini-figs side-by-side. From these photos it's hard to tell, but the car and truck doors may not actually open. That would be incredibly unfortunate, since the vehicle designs themselves are quite nice. There are many new elements in these sets.

The introduction of U.F.O. in 1997 only hinted at the hideous race of Insectoids to invade LEGOLand in 1998! These creepy aliens have bulbous helmets and craft shaped like all sorts of nasty crawling and flying critters.

Of the two new AquaZone sub themes for '98, these seem to be the good guys. The best thing about the Hydronauts is that they have a big base that is built on a raised baseplate, then raised further with the use of rock pieces. Both the Hydronauts and the Stingrays feature new pieces that allow the octagonal cockpit elements to be used at an angle.

And then there are the Stingrays, or as some people have called it, "AquaZone meets Blacktron". These sets are very agressive and the largest of the Stingrays sets is downright huge, measuring about 45 by 55 studs (width & length, respectively).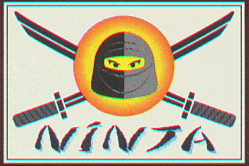 The castle theme welcomes the addition of the Ninja sub-theme this year. There are lots of new pieces used in these sets, and there is also a great variety of pre-existing pieces used to give the buildings an ornate look that hasn't been found in too many sets over the last few years. In particular, roof pieces are used generously, with the biggest Ninja set incorporating no fewer than 65 black roof bricks!

Generic Castle gets a new figure pack for 1998:
| | | | | |
| --- | --- | --- | --- | --- |
| Set Number & Name | Image Size | Year | Piece Count / Price | Mini-Fig Count |
| 6031 - Fright Force | 25k | 98 | 26 / $6.75 | 4 |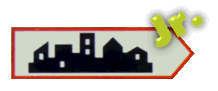 Town Jr. is majorly expanded for '98, with ten new sets. Again, these sets are designed for young kids making the transition from free-form building to building by instructions. These sets introduce the new bay windows which are probably one very large piece.

According to the '98 catalog, there are only two new generic town sets: The new City People mini-figure pack, and the Mail Carrier, which is shown in the LEGO Direct mini-catalog...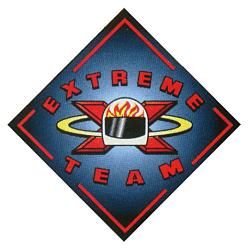 What happens when the LEGO designers want to do a bunch of radical vehicles and settings and can't think of which sub-theme to put them in? They create Extreme Team! These sets are loaded with outrageous vehicles, and there's even a mountain to climb and dangerous river to traverse via a rickety log bridge.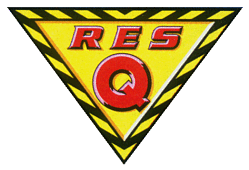 The most radical rescue-oriented sub-theme, these sets seem to take off where the 1896 - Trauma Team set left off. They also seem to be at least partially inspired by the Thunderbirds, just in terms of the types and style of vehicles included in the sets. Thankfully, there is also a base set. Notice the clever use of a space shuttle baseplate as a pier...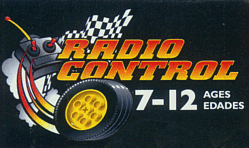 Finally...something LEGO fans have been clamoring for for years...a Radio Control set! The set features what seems to be a one-piece chassis (receiver, chassis, wheels) with a bunch of pieces that let you build various vehicles out of the set. The transmitter uses a two-stick setup rather than a throttle / steering setup. It seems there are instructions to build at least four different vehicles from the set.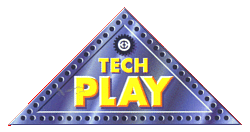 While the in-box catalog doesn't distinguish between Tech Play and Tech Build sets, we're assuming that these two sets at least are part of the Tech Play universe.

Too many late nights have been spent by LEGO designers watching reruns of Star Trek: The Next Generation. That is the only way to explain the borgified Picard figure that comes with one of these sets. The Cyber Slam sets are simply weird. Part of the Technic line, they incorporate a bizarre punch arm and target combination so that kids can beat the heck out of eachother. Sort of a do-it-yourself Rockem Sockem Robots thing...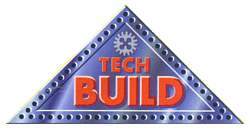 Two new sets are shown that will probably be part of the Tech Build line. The "Super Bike" incorporates some new wheels and tires.
| | | | | |
| --- | --- | --- | --- | --- |
| Set Number & Name | Image Size | Year | Pieces / S@H$ | Figs |
| 5542 - Black Thunder | N/A | 98 | ? / $39.99 | 0 |
---
Discontinued Sets
Based on a comparison of the 1997 and 1998 catalogs, the following 46 sets appear to be discontinued for '98...
6829 - Radon Rover
6099 - Traitor Transport
6079 - Dark Forest Fortress
6046 - Hemlock Stronghold
6024 - Bandit Ambush
6090 - Royal Knight's Castle
6761 - Bandit's Secret Hideout
6190 - Shark's Crystal Cave
6135 - Spy Shark
6195 - Neptune Discovery Lab
6145 - Crystal Crawler
6175 - Crystal Explorer Sub
6125 - Sea Sprint 9
6492 - Hypno Cruiser
6491 - Rocket Racer
6494 - Mystic Mountain Time Lab
6493 - Flying Time Vessel
6499 - Time Tunnelator
4022 - C-26 Sea Cutter
4012 - Wave Cops
4002 - Riptide Racer
6280 - Armada Flagship
6232 - Skeleton Crew
6289 - Red Beard Runner
6250 - Cross Bone Clipper
6248 - Volcano Island
6296 - Shipwreck Island
6204 - Buccaneers
6249 - Pirate's Ambush
6281 - Pirate's Perilous Pitfall
6599 - Shark Attack
6550 - Outback Racer
6553 - Crisis News Crew
6563 - Gator Landing
6331 - Patriot Jet
6581 - Dig 'n' Dump
6518 - Baja Buggy
6615 - Eagle Stunt Flyer
6598 - Metro PD Station
6625 - Speed Trackers
6545 - Search N' Rescue
6337 - Fast Track Finish
6335 - Indy Transport
6334 - Wave Jump Racers
6546 - Slick Racer
6517 - Water Jet
As you can see from this list, all Pirates sets are being discontinued, which is really a tragedy. Other good sets worth getting before they're gone are 6090, 6195, 6493, 4022, 6599, 6550, 6553, 6581, 6545, 6335 and 6546.
---
European-Only Sets
We haven't seen a '98 European catalog yet, but this section will be updated once one becomes available.
---
Back to Pause Magazine's Lego Page
---
Send mail to us at pause@lugnet.com.
---
Text and background graphics © 1997 Zucaro Internet Publishing. Pause Magazine and the Pause logo are trademarks of Zucaro Internet Publishing. All rights reserved.