Home / News
Welcome! You've found the discussion group area on LUGNET, a place to meet other LEGO® fans and talk about all sorts of LEGO® topics.
You can access these groups using your favorite newsreader, or your web browser, or even e-mail. But before jumping in, please take a few minutes to read and thoroughly understand the Terms of Use for this site. You'll also want to fill out the Posting Setup form at some point, so that the server can recognize you when you post messages.
Setting up a newsreader
The discussion groups here are handled by an NNTP server, meaning that you can access them with your favorite newsreader just as you would access your favorite USENET newsgroups such as rec.toys.lego. The NNTP settings for this server are:
Add NNTP Server
Server: lugnet.com
Port: 1119

Configuration is straightforward with most newsreaders. If you run into problems, you may need to get special permission from your system administrator if you are behind a firewall, or you may need to switch to a newsreader which supports multiple NNTP servers. You might also want to try port 8080 if you are unable to access using port 1119.
News-by-mail
If you prefer e-mail to a newsreader or the web interface, you can do the Mail Setup and then subscribe to any group as a mailing list.
Whether you access the groups by mail, the Web, or a real newsreader, everyone sees the same messages because there is a common core.
Traffic reports
By the way, if you are ever curious about which groups are the most active, check out the useful Traffic Report page, which is updated automatically every 5 minutes.
See you inside!
Todd Lehman & Suzanne Rich
October, 1998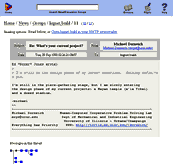 Read messages and follow threads graphically.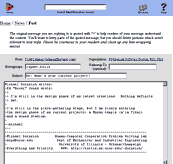 Reply to messages or start your own thread.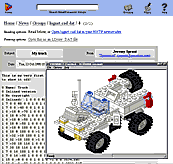 View LDraw models posted to the special lugnet.cad.dat.* groups (requires LDLITE for Windows to view). Model shown was created by Jeremy Sproat.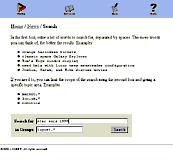 Search the archive of messages...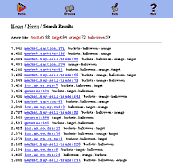 ...and home in with help from individual word hits.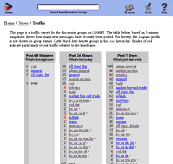 See which groups are most active over the past hour, day, and week.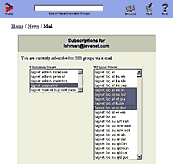 Subscribe to any group by e-mail.